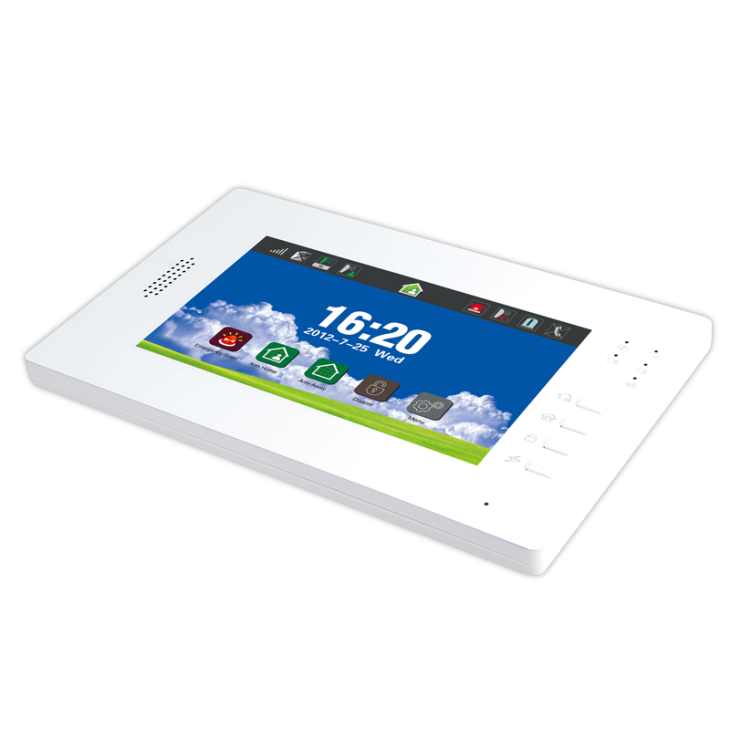 Add to Favorites
Share
Full Touch Screen Wireless Alarm System
Payment

Origin

China Mainland

Minimum Order

1

Packing

Pieces
Product Detail
If you are looking for professional full touch screen wireless alarm system manufacturers and suppliers in China, then you can make contact with XILONG and wholesale customized, cheap and low price touch screen alarm host, wireless home security alarm system, alarm system auto dialer from our factory.

Full Touch Screen Wireless Alarm System

Feature

1.Full touch screen alarm system, friendly interface 7 inch color screen displays icons and words;

2.Preloaded multi-optional system languages: traditional\simplified Chinese, English, German, French, Russian, Hebrew etc., which can meet different market requirements;

3.Alarm info transferring by GSM network (3 Bands or 4 Bands),or PSTN network, or dual-network in the form of phone call, SMS;

4.System has 31 wireless zones(each zone supports max 4 wireless sensors), compatible with optional wireless siren and 8 wired zones;

5.In system can preset max 5 groups phone numbers, alarm call will be in first priority if a normal call is going; GSM module will send alarm info once the landline cable is cut; Every group telephone number can be individually set to transfer alarm info by SMS or phone call;

6.Zone detection notification in disarm status, system can monitor the kids track;

7.In system menu you can set Pass By ON/OFF, zone type, Entry Delay ON/OFF for each zone;

8.Smart-logical analysis technology, zone name, installation position and sensor name will be displayed when system alarms;

9.Learn sensors into alarm host by friendly interface;

10.System has non-volatile chip, information will be stored automatically if power is off;

11.Optional smart functions, including check door\window status or voltage status automatically, low voltage of host or sensor alarm, uploads low voltage status to CMS;

12.Support optional wireless "ding-dong" doorbell;

13.Dual network and GSM network alarm host can send alarm info by SMS or phone call; PSTN network alarm host can only send alarm info by phone call;

14.Dual network and GSM alarm host can arm/disarm system by phone call, or SMS, or wireless remote controller, or host keypad, or wireless operation keypad; PSTN alarm host can arm/disarm system by phone call, or wireless remote controller, or host keypad, or wireless operation keypad;

15.System works with AC\DC power supply and built-in high energy lithium battery, system will give notification when low voltage, landline is cut and low power supply happen;

16."Black Box" functions, system can store max 99 alarm records and 100 operation records

17.Host is compatible with Contact ID protocol, suitable to build CMS (Central Monitoring Station);




TECHNICAL PARAMETERS

1.Power supply: 100VAC~240VAC

2.Static current: less than or equal to 140Ma, alarm current:less than or equal to 500Ma

3.Working condition: temperature -10Celsius~50Celsius, Humidly less-than 80%

4.Support max 8 wireless remote controllers, and max 116pcs wireless sensors, like door/window sensor, PIR sensor, and wireless gas detector;

5.System wireless frequency 433.92MHz or 868.35MHz;

6.Backup battery: rechargeable lithium battery 7.4V1200mAH;

7.3 Bands 900/1800/1900MHz or 4 Bands 850/900/1800/1900MHz is optional for GSM host and dual-network host;

8.Product dimension:220mm*190mm*28mm

How does it work?




This X6 is totally based on GSM cellular technology, after insert a valid SIM card, the system will connect into GSM wireless cellular network. The entire system is ran by your phone (including normal GSM cellphone and smart phone with app). The app features with away arming/stay arming/Disarming, and phone number setting, entry/exit delay...etc. Simply place your motion sensor interior your home, and door/window sensors for main entry points, and activate the system, when any one of sensor is triggered, it will set off alarm. The alarm system will not only make voice phone call, but also sending text message for alarm notification.




The X6 Alarm Panel




Different from other traditional alarm panels, theX6 features no hand operation. The x6 alarm panel is the "brain" of your alarm system, it's equipped with Quad-band GSM frequency (8680/900/1800/1900MHz) GSM communicator, requires a valid SIM card for alarm connection to begin working. The Cubealarm is built-in loud 85 dB siren that can make deterrent intrusion effectively. All the setup and configuration are made by the smart phone and remote control. The plug-n-play features can allow user install the system with flexibility.




Included Accessories




As introduction mentioned, the standard alarm package includes one wireless door/window sensor which comes with 3M adhesive tape for surface installation, and one wireless motion sensor, and two wireless remote keyfobs. All the sensors are programmed into X6 alarm panel already before the delivery. All these sensors are included high rechargeable Li batteries which at least can provide 2-3 years service.

Do-it-yourself, easy installation




Easy install with APP

Built-in GSM communicator, support remotely SMS control, easy to install within 30 minutes. Offering free iPhone/iPad and Android APP, control and configure the system in anywhere with your smart phone.

Monitoring your home or business without your smart phone in anywhere.

Alarm app in iPhone




Alarm app in iPhone



Easy Setup with App/SMS

Simple interface smart app for configuration of the whole system. Including program alarm receiving phone number, entry/exit delay time, siren time, and allow user to modify the zone name for friendly installation and usage. Including active/deactivate the system with app.




Turn On/Off with APP

With help of wireless remote control socket, you can use the APP/SMS to turn on/off your appliances. Power rating 10amps, 230 volts 2300 watts maximum load. Transmission frequency 868MHz, wireless range <=130 meters (open space).

Turn On/Off power via smart app




Wireless Remote Control Socket




Wireless remote control socket

Working with wireless remote control socket lets your alarm system turn on/off your appliances and equipment. You can either use the included keyfob or smart app to control this wireless remote control socket. The socket is connected to alarm panel via wireless frequency, so it will work through walls and ceilings.




wireless home automation banner




What's wireless home automation?




The home automation is the electronic equipment that enables you to use your home appliance more conveniently and efficiently. The home automation system can be as simple as remote or automatic control of lights, or it can be a complete system that controls all major parts of your home appliance from TV, Audio amplifier, Washing machine, and Air conditioner...and more.




Our home automation is adopting Lightwave technology. The Lightwave technology is affordable smart home technology and we can offer remote control lamp holder and remote control socket to work with our wireless alarm system. These home automation equipment are affordable with high reliability, easy installation without re-wiring, no mess-just clean, simple installation process. Plug-n-play aesthetic features can work with your exist sockets and lamp holders.




What functions it provide?



Security




This is affordable wireless alarm system, working with home automation function. Once an alarm is triggered, the socket and lights will turn on to deterrent intruders. Turn off when alarm system is disarmed.



3
YRS
Shenzhen Xilong Electronics Co.,Limited
China
Favorites